The Mission Church
Current Events
Doing life together to the glory of Jesus!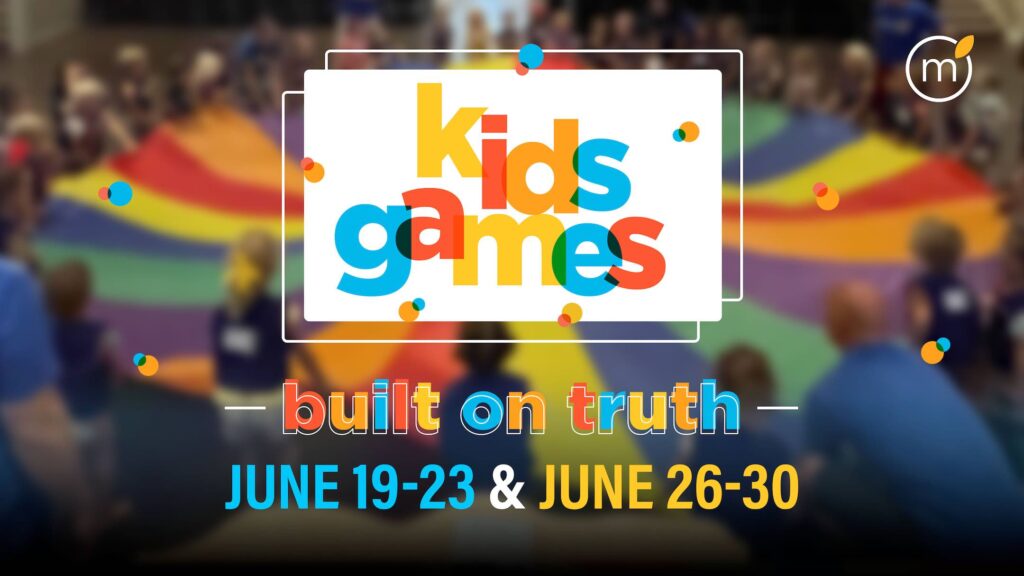 Kids Games Summer 2023
Register Today :: June 19-23 & 26-30
Get ready to dance, play, create, and make friends at Kids Games 2023! We'll take a deep dive into God's TRUTH and discover the good plan that God has for us in His Word. Choose from exciting classes that are sure to thrill your child!
Little Campers – Ages 3-4 years
This program is designed with three and four year olds in mind. Your child will enjoy puppets shows, art, music, and dance as they learn about God's wonderful and unchanging truth.
*Please note that Little Campers DO NOT need to choose from the list of classes.
Kids Games – Ages 5-11 years
*Your kids can choose two of the thrilling classes below!
– Obstacle Courses
– Drawing
– Martial Arts
– Skateboarding
Your kids are precious and we take great care to ensure all our volunteers complete a background check to provide a loving and safe environment. We can't wait to watch your child discover the wonder of God and His unchanging truth!

Register for June 26-30

Step Up Sunday for Kids
Sunday, June 11th at Every Service
As Summer approaches we are so excited for your children to experience Step Up Sunday! On June 11th at all three of our services your kids will move up one grade from their current class into a step above.
Current 4-year olds will move into our K-1 classroom

Current 1st graders will move into our 2nd-3rd grade class upstairs

Current 3rd graders will move into our Mission 45 class

Current 5th graders will move up into Mission 68 (Middle School)

Current 8th graders will move up into High School group during the 11:30am service
We can't wait to make this a fun-filled day for them as we provide some epic face painting and games in their new classes!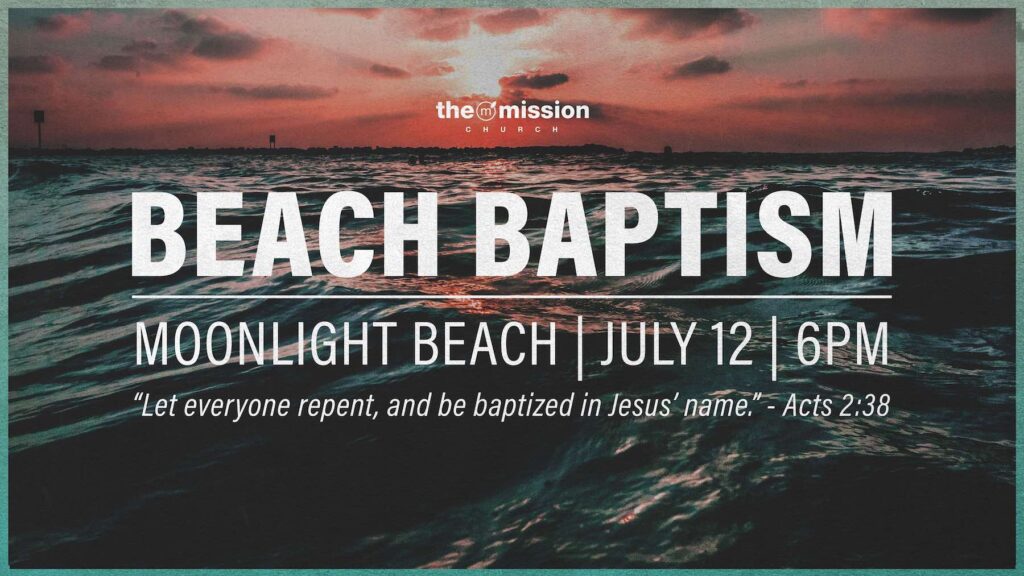 Beach Baptism
Wednesday July 12th @ 6 PM
Summer Beach Baptism is here! You're invited to be Baptized on Wednesday, July 12th – 6:00pm @ Moonlight Beach in Encinitas! As we kickoff our Summer Nights The Mission Church family wants to celebrate those taking a step of faith in obedience to Jesus. Baptism is a public proclamation that Jesus is Lord of your life and that you identify with His death and resurrection.
Invite your family and friends as we enjoy a beach BBQ, fellowship, beach games and your baptism! We can't wait to see you and the many others answering Jesus' call to be baptized.
Sign Up Below to Learn More about Baptism!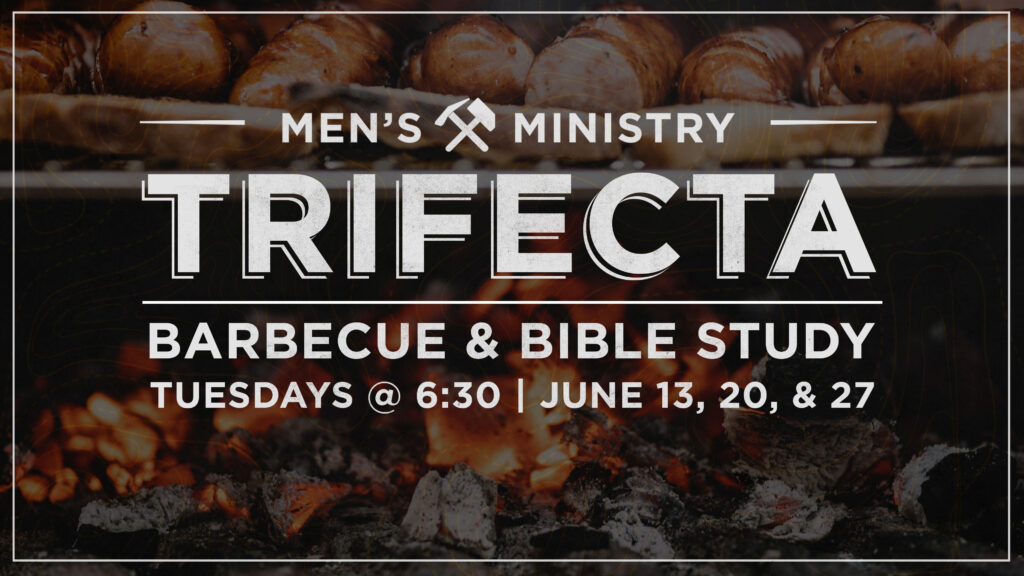 Men's Ministry BBQ
Tuesday – June 13, 20 & 27 @ 6:30PM
Welcome to the Men's Ministry BBQ Trifecta! We are so excited to host 3 weeks of delicious BBQ food, teaching from God's Word and awesome community. Men's Ministry will meet:
Tuesday, June 13th @ 6:30 PM

Tuesday, June 20th @ 6:30 PM

Tuesday, June 27th @ 6:30 PM
As we gather in Jesus' name our plan is to host our BBQ nights in The Mission Church parking lot as a witness and invitation to other men in the community.

Want to serve? Join the team! Be a part of the Men's Ministry Stage Crew (stage, sound, games, BBQ). Sign up now!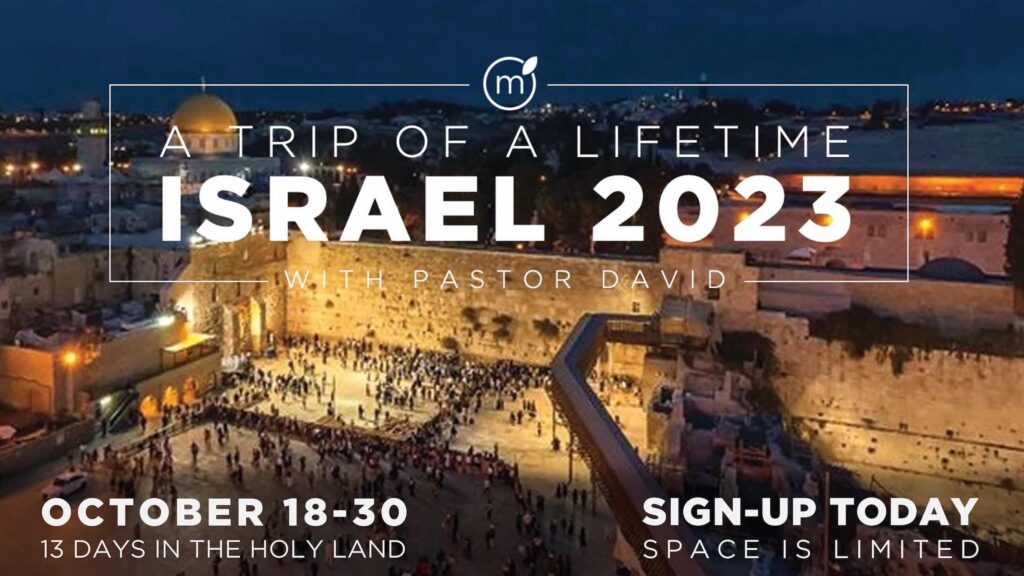 Israel 2023
October 18-30 :: Sign Up Today
Are you ready for the trip of a lifetime? Are you ready for the Bible to come alive in living color? The Mission Church is excited to announce our 2023 trip to the Holy Land, October 18 – 30!
Pastor David and Lisa, invite you to join them on a journey to Israel that will bring the Bible to life in ways that can only be experienced when your feet and heart are standing in the "Promise Land." These 13 days have been purposefully designed for you to experience the important, historic Biblical sites in Israel with your own eyes. You will be filled with awe and wonder as you travel across the Holy Land!
For thousands of years, no place has been more meaningful to God's children than the land of Israel. God used the geography and events of Israel to shape the lives of His people in the Bible – and He is doing the same today. Your faith will be enriched, and your soul will fill with awe as you experience Bible teaching from Pastor David Menard that comes to life as you stand in the same locations these epic Bible stories took place.
Our 13-day journey includes wonderful accommodations in quality hotels, BREAKFAST and DINNER daily, and incredible sites with multiple nights at the Sea of Galilee, the Dead Sea, and Jerusalem. Israel with The Mission Church is the trip you do not want to miss!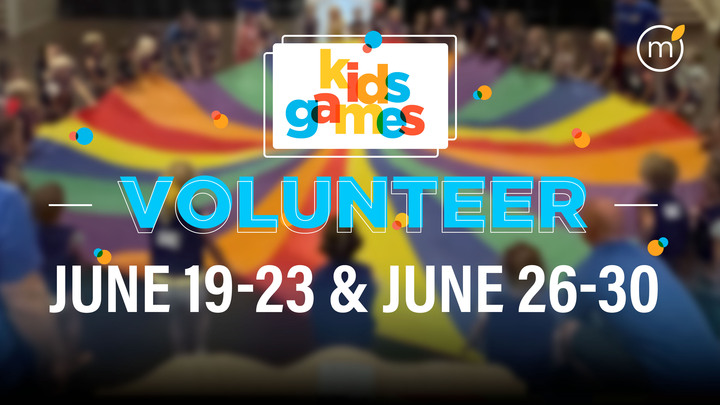 Kids Games Volunteers
Sign Up Today :: June 19-23 & 26-30
Welcome! If you are an adult or youth in sixth grade or above and you are looking for a way to serve Jesus while dancing, playing games, pouring into kids, and making friends… then Kids Games is exactly what you're looking for!
Crew Leaders will oversee a Crew of 8 kids. Your job will be to lead the kids through their daily classes, keep them safe, and (most importantly) make sure they are having a blast!
Kids Games will run from June 19th to June 23rd for Week 1 and June 26th to June 30th for Week 2. All volunteers will be expected to be at The Mission Church from 8:30am to 12:30pm Monday through Friday.
There will be a Volunteer Training for ALL VOLUNTEERS on June 11th from 1:15pm to 2:00pm, and additionally 2:15pm to 3:15pm for Crew Leaders (Ice cream sundaes included for our Crew Leaders).

The Mission Church
825 Carlsbad Village Drive
Carlsbad, CA 92008