May 22, 2022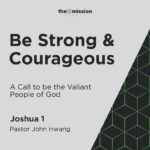 Joshua 1 – Be Strong and Courageous
Joshua 1 - Be Strong and Courageous is an inspirational message showing us that we can be the valiant people of God. When we focus on God's abilities and faithfulness we are able to then be strong and courageous. Strength and courage are not merely words, but the truth of what God promises and provides to those who follow Him. Listen to Guest Speaker John Hwang as he unpacks this uplifting message showing what it means to embrace God's call of strength and courage in daily life so that we may be the valiant people of God.
Joshua 1 - Be Strong and Courageous Points:
1> Confidence in The Promises of God
2> Obedience to The Word of God
3> Assurance of The Presence of God
4> Encouragement from The People of God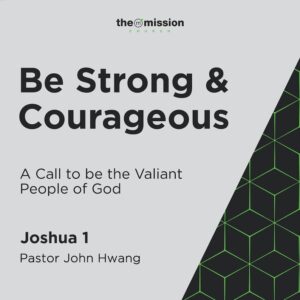 Near the end of his time on earth Joshua writes to Israel: "Behold, this day I am going the way of all the earth. And you know in all your hearts and in all your souls that not one thing has failed of all the good things which the LORD your God spoke concerning you. All have come to pass for you; not one word of them has failed."
The Apostle Paul writes in the book of Romans: "For I consider that the sufferings of this present time are not worthy to be compared with the glory which shall be revealed in us. "
And we know that all things work together for good to those who love God, to those who are the called according to His purpose. For whom He foreknew, He also predestined to be conformed to the image of His Son, that He might be the firstborn among many brethren. Moreover whom He predestined, these He also called; whom He called, these He also justified; and whom He justified, these He also glorified.
Let your conduct be without covetousness; be content with such things as you have. For He Himself has said, "I WILL NEVER LEAVE YOU NOR FORSAKE YOU." So we may boldly say: "THE LORD IS MY HELPER; I WILL NOT FEAR. WHAT CAN MAN DO TO ME?"

Watch
Notes
Download
Date
Title
May 22, 2022

Joshua 1 – Be Strong and Courageous

Aug 22, 2021

Jude 1 – Atheist's Objections to God

Aug 22, 2021

Jude 1 – Atheist's Objections to God

Jude 1 - Atheist's Objections to God by Guest Speaker Charlie Campbell. Charlie Campbell provides excellent responses to Skeptics Objections to God. Jude 1 - Atheist's Objections to God is a summarized version his book "One-Minute Answers to Skeptics"

 

Jude 1:3 Beloved, while I was very diligent to write to you concerning our common salvation, I found it necessary to write to you exhorting you to contend earnestly for the faith which was once for all delivered to the saints.

 

 

 

 

 

 

 

 

Topics Covered in this message are:

 Is God's existence real? Wasn't the Bible written by men? If God is loving, why does He allow evil and suffering? Does the Bible condone slavery? Isn't evolution scientifically proven? The Bible oppresses women right? Why do Christians hate homosexuals? Listen to Charlie Campbell point us to God and His Word as he answers Atheists' Objections to God.

Atheists often assert there is no evidence for God. As Christians we are called to contend for the faith (Jude 1:3) and to be equipped with providing evidence for God. The expanse of the Universe, billions of stars, the precise nature of the Earth's axis and even the complexity of our DNA and bodily functions all point to intelligent design by a creator. Objections to God and HIs existence cannot stand in the face of creation in all its' details and created purpose.

Evolution has been proven false time and time again when we consider the dis-proven Fossil Records of "Ida", "Lucy", "Neanderthal man", "Nebraska man", and "Piltdown man." Atheists' objections to God are often rooted in misinformation or simply a posture of no matter what God reveals it's never enough to convince the skeptic.

Many Atheists cling to straw-man arguments founded on the Bible's standard of homosexuality, Cannanite genocide, slavery and the inerrancy of Scripture. Despite popular Atheist belief the Bible condemns the oppression of women, slavery and the mistreatment or cruelty of anyone, which includes homosexuals. We are called to be kind to all people, but Christians can disagree with all kinds of lifestyles engrossed in sinful practices.

Many Atheists believe Christians are trying to force their beliefs on others, which is contrary to the Good News (Gospel) as it is a free gift offered to all. At the end of the day Atheists' Objections to God fall short in front of a loving and merciful God willing to receive anyone who will come to Him through Jesus Christ our Lord.

 

Sep 6, 2020

Ephesians 3 – Flirting with Darkness (Guest Speaker Ben Courson)

Aug 23, 2020

Genesis 3 – Protoevangelium (Guest Speaker Pastor John Hwang)

Feb 16, 2020

Daniel 2-4 – Praise Of A King (Guest Speaker Abel Mendez)

Nov 17, 2019

John 12:1-8 – Extravagant Worship (Guest Speaker John Hwang)

Aug 11, 2019

Ezekiel 38 – Educating Our World (Guest Speaker – Don Stewart)

Aug 11, 2019

Ezekiel 38 – Educating Our World (Guest Speaker – Don Stewart)

Ezekiel 38 - Educating Our World by Don Stewart. The Mission Church Carlsbad

Is there any proof that the God of the bible exists? Don Steward will show us how the fulfilled and future prophecies in the bible give us the overwhelming proof.

Jul 21, 2019

Genesis 3 – New Age Spirituality (Guest Speaker Charlie Campbell)

Jul 21, 2019

Genesis 3 – New Age Spirituality (Guest Speaker Charlie Campbell)

New Age Spirituality by Guest Speaker Charlie Campbell. The Mission Church Carlsbad

 

Charlie Campbell uncovers the Biblical truths in Genesis 3. See how these verses reveal the true author of the New Age Spirituality Movement.

Jun 30, 2019

Psalm 22-24 – The Jesus Trilogy (Guest Speaker: Pastor John Hwang)

Jun 30, 2019

Psalm 22-24 – The Jesus Trilogy (Guest Speaker: Pastor John Hwang)

"Psalms 22, 23 & 24

The Jesus Trilogy, by Pastor John Hwang. The Mission Church Carlsbad.

 

Who is Jesus? Who is He to you? Join us as we read the Psalms of King David to Identify Jesus' identity and purpose.

Jan 14, 2018

Homo-Sexuality and the Bible (Guest Speaker: Charlie Campbell)

Jan 14, 2018

Homo-Sexuality and the Bible (Guest Speaker: Charlie Campbell)

Scripture:          Romans 1

Sermon Title:   Homo-Sexuality and the Bible - 

Guest Speaker Charlie Campbell

Series:              Topical

Speaker:          Guest Speaker Charlie Campbell

The Mission Church Encinitas