Oct 1, 2023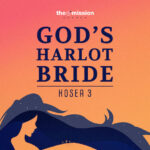 Hosea 3 – God's Harlot Bride
Hosea 3 - God's Harlot Bride. The scene is heartbreaking! Hosea's wife is for sale - tattered, filthy and wreaking of sexual adultery. In sin she leaves her husband, returns to her life of prostitution and is now found wanting and desperate. Who would want to purchase a woman abused and soiled by her pursuit of counterfeit lovers? Astonishingly, God instructs Hosea to buy his wife back and to wash her with unwavering love! Don't miss one of the Bible's greatest similes as Hosea exemplifies God's heart for His people Israel. Not only does Hosea 3 proclaim the Lord's powerful mercy, but God prophesies the future hope and promises being fulfilled in our lifetime! If you've ever questioned whether God could still love you after a life full of sin, hear the answer in Pastor David's influential sermon, Hosea 3 - God's Harlot Bride!
Hosea had a difficult ministry: GOD'S PEOPLE DID NOT KNOW GOD. They were seduced by worldly ideologies & sexual sins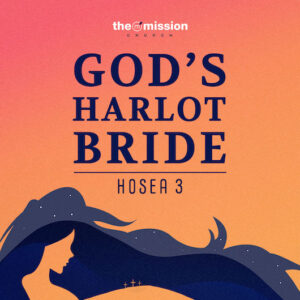 "The LORD is near to those who have a broken heart, and (He) saves such as have a contrite spirit. Many are the afflictions of the righteous, but the LORD delivers him out of them all. He (God) guards all his bones; not one of them is broken. (But) Evil shall slay the wicked, and those who hate the righteous shall be condemned. The LORD redeems the soul of His servants, and none of those who trust in Him shall be condemned."
Psalm 34:18–22 NKJV
https://www.blueletterbible.org/nkjv/psa/34/18-22/s_512018
"Then GOD ordered me, "Start all over: Love your wife again, your wife who's in bed with her latest boyfriend, your cheating wife. Love her the way I, GOD, love the Israelite people, even as they flirt and party with every god that takes their fancy."
Hosea 3:1 The Message
https://messagebible.com/scripture/?text=Hosea+3%3A1
SIN DESTROYS LIVES GOD WANTS TO SAVE US FROM THE DESTRUCTION SIN BRINGS "'Come now, and let us reason together,' says the LORD, 'Though your sins are like scarlet, they shall be as white as snow; though they are red like crimson, they shall be as wool. If you are willing and obedient, you shall eat the good of the land. But if you refuse and rebel, you shall be devoured by the sword.' For the mouth of the LORD has spoken."
Isaiah 1:18 NKJV
https://www.blueletterbible.org/nkjv/isa/1/18/s_680018
God reveals what He will do with ISRAEL IN THE LAST DAYS Israel in the last days: 1) Will be scattered without a homeland or king 2) God will restore Israel to their homeland 3) They will seek Jesus as their final King "The LORD tells you (David) that He will make you a house. When your days are fulfilled and you rest with your fathers, I will set up your seed after you, who will come from your body, and I will establish His kingdom. He shall build a house for My name, and I will establish the throne of His kingdom forever."
2 Samuel 7:11–13 NKJV
https://www.blueletterbible.org/nkjv/2sa/7/11-13/s_274011
"Then King David went in and sat before the LORD and said, 'Who am I, O Lord GOD, and what is my house, that you have brought me thus far? And yet this was a small thing in your eyes, O Lord GOD. For You have spoken also of your servant's house for a great while to come, and this is instruction for mankind, O Lord GOD!'"
2 Samuel 7:18–19 ESV
https://www.blueletterbible.org/esv/2sa/7/18-19/s_274018
"While the Pharisees were gathered together, Jesus asked them, saying, 'What do you think about the Christ? Whose Son is He?' They said to Him, 'The Son of David.' He said to them, 'How then does David in the Spirit call Him "Lord," saying: "The LORD said to my Lord, 'Sit at My right hand, till I make Your enemies Your footstool' "? If David then calls Him "Lord," how is He his Son?' 46 And no one was able to answer Him a word."
Matthew 22:41–46 NKJV
https://www.blueletterbible.org/nkjv/mat/22/41-46/s_951041
"(Jesus speaking) 'Behold, I am coming quickly, and My reward is with Me, to give to every one according to his work. I am the Alpha and the Omega, the Beginning and the End, the First and the Last.' '...I am the Root and the Offspring of David, the Bright and Morning Star.'"
Revelation 22:12
& 16 NKJV
https://www.blueletterbible.org/nkjv/rev/22/12/s_1189012
https://www.blueletterbible.org/nkjv/rev/22/16/s_1189016
Ezekiel 37
Jesus gave it all to redeem His harlot bride. He foretold He would do it from the beginning of time.
Watch
Notes
Download
Date
Title
Oct 1, 2023

Hosea 3 – God's Harlot Bride

Sep 24, 2023

Hosea 1-2 – The Scandalous Love of God

Sep 17, 2023

Genesis: Epilogue – Understanding the Heart of God

Sep 10, 2023

Genesis 50:15-26 – Joseph's Faithfulness Unto Death

Sep 3, 2023

Genesis 50:1-14 – Jacob's Burial & Grieving Our Loved Ones

Aug 27, 2023

Genesis 49 – Jacob's Last Words (Part 2)

Aug 20, 2023

Genesis 48 – Jacob's Last Words

Aug 13, 2023

"Why Can't Other Religions Connect People with God?" – With Guest Speaker Charlie Campbell

Aug 13, 2023

"Why Can't Other Religions Connect People with God?" – With Guest Speaker Charlie Campbell

Why Can't Other Religions Connect People with God? Listen to guest speaker Charlie Campbell give examples from the New Testament that back up the truth that Jesus is the only way to salvation and provide multiple references that point to ways that God reveals Himself to humanity.

Aug 6, 2023

Genesis 47:13-48:7 – God Builds a Man (Part 12)

Jul 30, 2023

Genesis 46:30-47:28 – God Builds a Man (Part 11)

Jul 23, 2023

Genesis 45:18-46:30 – God Builds a Man (Part 10)

Jul 16, 2023

Genesis 45:1-20 – God Builds a Man (Part 9)

Jul 9, 2023

Genesis 43:1-45:15 – God Builds a Man (Part 8)

Jul 2, 2023

Genesis 42:25-43:14 – God Builds a Man (Part 7)

Jun 25, 2023

Genesis 41:46-42:25 – Joseph – God Builds a Man (Part 6)

Jun 18, 2023

Genesis 41:1-46- Joseph, God Builds a Man (Part 5)

Jun 11, 2023

Genesis 40:16-23. Joseph, God Builds a Man (Part 4)

Jun 4, 2023

Genesis 40:1-15. Joseph, God Builds a Man (Part 3)

May 28, 2023

Genesis 39:11-23. Joseph, God Builds a Man (Part 2)

May 21, 2023

Genesis 37:18 – 39:10. Joseph, God Builds a Man (Part 1)

May 14, 2023

Genesis 37:1-22 – Joseph – Prefigure of King Jesus

May 7, 2023

Genesis 35:16-29 – What Happens When We Die?

Apr 30, 2023

Genesis 35:1-15 – Regeneration in the House of God

Apr 23, 2023

Genesis 33-34 – Reconciliation & Revenge

Apr 16, 2023

Genesis 32 – Wrestling with God

Apr 9, 2023

John 20 – The Power of Jesus' Resurrection

Apr 9, 2023

John 20 – The Power of Jesus' Resurrection

John 20 - The Power of Jesus' Resurrection. With incredible detail, Jesus' resurrection story is recounted by the Apostle John. This sermon reveals the fear of the disciples after Jesus' death and the peace He brings when He is with them once again. Easter Sunday is more than just a great story; the resurrection of Jesus completes the atonement for our sins so that the wrath of God is satisfied. If you think that your past and sin is too great to overcome, listen to Pastor Dave's sermon from John 20 - The Power of Jesus' Resurrection, and be encouraged that Jesus wants to redeem and use your life in powerful ways!

The disciples were DEVASTATED by JESUS DEATH

"It was Mary Magdalene, Joanna, Mary the mother of James, and the other women with them, who told these things to the apostles. And their words seemed to them like idle tales, and they did not believe them."

Jesus shows His disciples HE IS ALIVE

Without Jesus we live in FEAR

With Jesus we live in PEACE

Jesus doesn't write us off WHEN WE SIN MISERABLY

Jesus wants to USE YOUR LIFE in powerful ways!

We've all sinned AGAINST GOD

PEOPLE WHO HAVE NO ATONEMENT FOR THEIR SIN WILL FACE THE WRATH OF GOD

"The cowardly, unbelieving, filthy, murderers, sexually immoral, sorcerers, idolaters, and all liars shall have their part in the lake which burns with fire and brimstone, which is the second death."

"Do you not know that the unrighteous will not inherit the kingdom of God? Do not be deceived. Neither fornicators, nor idolaters, nor adulterers, nor homosexuals, nor sodomites, nor thieves, nor covetous, nor drunkards, nor revilers, nor extortioners will inherit the kingdom of God."

"Then I saw a great white throne and Him who sat on it, from whose face the earth and the heaven fled away. And there was found no place for them. And I saw the dead, small and great, standing before God, and books were opened. And another book was opened, which is the Book of Life. And the dead were judged according to their works, by the things which were written in the books..."

"And anyone not found written in the Book of Life was cast into the lake of fire."

Jesus provides ATONEMENT for all who make Him Lord

Jesus empowers us with His Spirit TO LIVE A NEW LIFE

"But this is the covenant that I will make with the house of Israel after those

days, says the LORD: I will put My law in their minds, and write it on their hearts; and I will be their God, and they shall be My people."

"If you confess with your mouth the Lord Jesus and believe in your heart

that God has raised Him from the dead, you will be saved. 10 For with the heart one believes unto righteousness, and with the mouth confession is made unto salvation. For the Scripture says, "Whoever believes on Him will be saved."

Apr 7, 2023

Matthew 26 – The Wrath of God is Satisfied

Apr 7, 2023

Matthew 26 – The Wrath of God is Satisfied

Apr 2, 2023

Luke 19:28-40 – Jesus the Lord of All

Apr 2, 2023

Luke 19:28-40 – Jesus the Lord of All

Luke 19:28-40 - Jesus the Lord of All. Without a doubt, Jesus fulfilled the Messianic details of the Old Testament Scriptures. This sermon explores the incredible truth of Jesus the Lord of All and points us directly to undeniable prophecy fulfilled with His entrance into Jerusalem. Luke's Gospel, in conjunction with Isaiah 53 and Psalm 118, reveals the profound depth of Jesus' sovereignty and why this aspect of His immutable character matters to you! Even if you've already read and heard the story of Jesus riding into Jerusalem on a donkey, you won't want to miss the significance of a Savior who reveals the value of His Lordship over your life. Pastor Dave's sermon from Luke 19 - Jesus the Lord of All, will inspire your desire to make Jesus Lord of your life, heart and future!

Luke 18:31 - JESUS THE LORD OF ALL

Remarkable Prophecies made by Jesus: 1) The ancient prophecies about the Messiah would be fulfilled in Jerusalem 2) Jesus will be delivered to the Gentiles for trial 3) Jesus will be mocked, insulted, and spat upon 4) Jesus will be scourged by the Romans 5) Jesus will be killed

6) The third day, Jesus will resurrect from the dead

"Rejoice greatly, O daughter of Zion! Shout, O daughter of Jerusalem! Behold, your King is coming to you; He is just and having salvation, lowly (humble) and riding on a donkey, a colt, the foal of a donkey."

JESUS is the LORD OF ALL - SOVEREIGN MAR 14, 445 BC Artaxerxes issued a command to restore and rebuild Jerusalem (Nehemiah 2)

"And it will be said in that day: 'Behold, this is our God; we have waited for Him, and He will save us. This is the LORD; we have waited for Him; we will be glad and rejoice in His salvation.'"

PSALM 118 Jesus is Lord of our lives Jesus is Lord of our heart

"He was wounded for our transgressions (sins against God), He was bruised for our iniquities (immorality, deception, selfishness, arrogance, sin); The chastisement for our peace was upon Him, and by His stripes we are healed."

"I, the LORD, search the heart, I test the mind, even to give every man according to his ways, according to the fruit of his doings."

"The LORD is near to all who call upon Him, to all who call upon Him in truth. He will fulfill the desire of those who fear Him; He also will hear their cry and save them. The LORD preserves all who love Him, but all the wicked He will destroy."

Jesus is Lord of our future

Mar 26, 2023

John 2:1-12 – Redemption: The Man, The Plan, The Power of God

Mar 19, 2023

Be Ready – Jesus is Coming! – Luke 17:20-37