Sep 10, 2023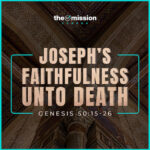 Genesis 50:15-26 – Joseph's Faithfulness Unto Death
Genesis 50:15-26 - Joseph's Faithfulness Unto Death, is our final passage in the book of Genesis! Joseph is a prefigure of King Jesus even unto death. Joseph parallels Christ's character through absolute forgiveness, a selfless and sacrificial life and last words that point future generations to Jesus! Many people believe in God, but their lack of Bible literacy leads to misunderstandings of God's character and love towards them. Don't miss a powerful message revealing God's heart of forgiveness displayed in Joseph toward his brothers. As a parent, a spouse or even as a friend may we learn from Joseph that our authority should be used to build up others. Listen to Pastor JC's sermon from Genesis 50:15-26 - Joseph's Faithfulness Unto Death, and walk in the truth of Jesus forgiveness for you and through you! God's Forgiveness is Absolute
"If we confess our sins, He is faithful and just to forgive us our sins and to cleanse us from all unrighteousness."
"Once again you will have compassion on us. You will trample our sins under your feet and throw them into the depths of the ocean!"
"He has removed our sins as far from us as the east is from the west."
"So now there is no condemnation for those who belong to Christ Jesus."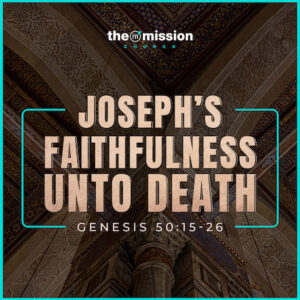 "When you doubt God's Word, you soon begin to doubt God's love."
- Warren Wiersbe
God's Forgiveness is Absolute. Is Yours?
A Gospel-centered Perspective Produces a Selfless View on Life
A Gospel-centered Perspective Produces a Sacrificial View on Life
"Dear friends, never take revenge. Leave that to the righteous anger of God. For the Scriptures say, 'I will take revenge; I will pay them back,' says the Lord. Instead, 'If your enemies are hungry, feed them. If they are thirsty, give them something to drink. In doing this, you will heap burning coals of shame on their heads.' Don't let evil conquer you, but conquer evil by doing good."
A Gospel-centered Perspective Produces Vision for an Abundant Life
"So you have not received a spirit that makes you fearful slaves. Instead, you received God's Spirit when He adopted you as His own children. Now we call Him, 'Abba, Father.'" For His Spirit joins with our spirit to affirm that we are God's children. And since we are his children, we are His heirs. In fact, together with Christ we are heirs of God's glory. But if we are to share His glory, we must also share His suffering."
In Joseph's Impending Death he Affirms God's Promises to Future Generations
Joseph – A Prefigure of King Jesus: • Joseph's forgiveness extends to his betrayers • Joseph's suffering leads to many people being saved • Joseph's death points others to the Promised Land
Watch
Notes
Download
Date
Title
Sep 10, 2023

Genesis 50:15-26 – Joseph's Faithfulness Unto Death

Sep 3, 2023

Genesis 50:1-14 – Jacob's Burial & Grieving Our Loved Ones

Aug 27, 2023

Genesis 49 – Jacob's Last Words (Part 2)

Jul 2, 2023

Genesis 42:25-43:14 – God Builds a Man (Part 7)

Mar 19, 2023

Be Ready – Jesus is Coming! – Luke 17:20-37

Jan 1, 2023

Acts 8:26-40 – A Believer's Baptism

Dec 25, 2022

Luke 2:25-35 – The Omnipotent King and His Kingdom Eternal

Dec 25, 2022

Luke 2:25-35 – The Omnipotent King and His Kingdom Eternal

Luke 2:25-35 - The Omnipotent King and His Kingdom Eternal demonstrates the mighty power of God by the understanding of who Jesus really is. God's most powerful work takes on a very different appearance than expected for the rulers and religious leaders at this time in Israel's history. Jesus born in a feeding trough, in the lowly town of Bethlehem, is now going to be now going to be dedicated in the temple on His eight day. By the revelation of the Holy Spirit, a man named Simeon is waiting for Jesus, who he knows is the "Consolation of Israel". Find out the prophetic message Simeon reveals to Joseph and Marry about their son Jesus in this sermon, Luke 2:25-35 - The Omnipotent King and His Kingdom Eternal. And she will bring forth a Son, and you shall call His name JESUS, for He will save His people from their sins."

Matthew 1:21, (NKJV)

https://www.blueletterbible.org/nkjv/mat/1/21/s_930021

God Give Grace To The Humble Keep Jesus Close To Your Heart

I once thought these things were valuable, but now I consider them worthless because of what Christ has done. Yes, everything else is worthless when compared with the infinite value of knowing Christ Jesus my Lord. For his sake I have discarded everything else, counting it all as garbage, so that I could gain Christ

Philippians 3:7-8, (NLT)

https://www.blueletterbible.org/nlt/phl/3/7-8/s_1106007

Jesus Came To Offer Salvation To Everyone

And besides, there is a great chasm separating us. No one can cross over to you from here, and no one can cross over to us from there.'

Luke 16:26, (NLT)

https://www.blueletterbible.org/nlt/luk/16/26/s_989026

Peace With God Leads To A Content Life Visit Us At:

https://www.themissionchurch.net

Nov 27, 2022

John 9-10 – Abundant Life

Oct 30, 2022

Genesis 23 – A Faithful Pilgrimage

Sep 25, 2022

Genesis 19:15-38 – Leaving a Legacy

Aug 28, 2022

1 John 3:4-3:23 – The Divine Standard of Love

Aug 21, 2022

1 John 2:18-3:3 – The Father's Love

Aug 14, 2022

1 John 1-2 – The Assurance of Knowing Jesus

Aug 7, 2022

1 John 1:1-4 – The Transmission of Joy

Jul 10, 2022

Acts 16 – Baptism – A Believer's Response to God's Love

May 29, 2022

Genesis 9-10 – New Beginnings

Feb 13, 2022

Acts 12 – Prayer in God's Playbook

Jan 9, 2022

Nehemiah 1:1-2:10 – New Beginnings

Dec 19, 2021

Luke 2:1-20 – So This is Christmas – The Birth of Jesus

Dec 5, 2021

Luke 1:26-38 – The Divine Announcement

Nov 28, 2021

Daniel 6 – Jonah 2 – Acts 27 – Living With Gratitude

Oct 31, 2021

Matthew 28:1-10 – The Resurrection

Oct 17, 2021

Matthew 27:50-56 – The Cross (Part 3)

Aug 15, 2021

The Book of Proverbs – Wisdom for Today

Aug 8, 2021

Daniel 1:1-21 – Purposed In Heart

Aug 1, 2021

Matthew 26:31-35 – Prone To Self-Sufficiency

Jun 27, 2021

Matthew 25:1-13 – Ready for the Return of Jesus

May 16, 2021

Matthew 23:1-28 – Jesus Confronts Religious Hypocrisy (Pastor JC Cooper)

Apr 18, 2021

Acts 16:25-34 – Rise to New Life (Pastor JC Cooper)

Mar 21, 2021

Matthew 20:29-34 – Spiritual Sight in a Blind World (Pastor JC Cooper)